WORLD'S WONDERS in 4K | 1HR Nature Relaxation™ UHD Music Video / Screensaver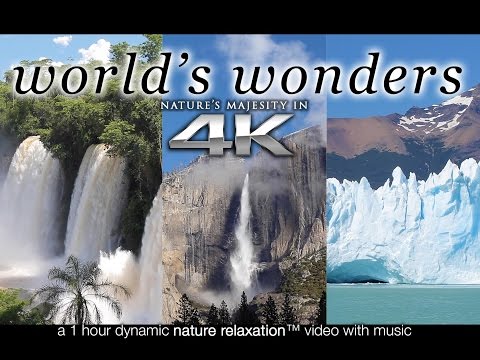 DVD/DOWNLOAD: http://www.naturerelaxation.com/produ… | OR GET THE APP @ http://www.NatureRelaxation.com/Strea… | ABOUT: For 60 relaxing minutes, you'll be gracefully transported from paradise to paradise with this seamless compilation of short video experiences filmed at some of the world's wonders like Iguazu Falls, the Hawaiian Islands, the Canadian Rockies, Yosemite National Park, and much more. Music is contributed from an impressive array of award-winning ambient artists, which I am fortunate to be working with: Deuter, Parijat, Liquid Mind, Darshan Ambient, Travis Revell, and Yellow Brick Cinema. MORE INFO:
Locations featured: USA: Big Sur, Yosemite, Kings Canyon, San Diego, San Francisco, Porland, Oregon, Oahu, Hawaii. ARGENTINA: Iguazu Falls, and El Calafate- Perito Moreno Glacier. MEXICO: Isla Mujeres and Isla Holbox, Yucatan Peninsula (near Cancun). CANADA: Banff & Jasper National Parks including Moraine Lake & Lake Louise. All filmed in 2014 -2016 on the Canon 1DC in 4K UHD.

ABOUT MY WORK WITH NATURE RELAXATION™:
Through blessed circumstances and following my passion for years, I can confidently say I have realized my life's work, and it is to remind YOU that regardless of everything, RIGHT NOW we live on an amazingly beautiful garden planet, filled with the wonders and healing powers of Nature. Through my work with Nature Relaxation™, I seek to promote Nature's simple yet subtle message of peace, by sharing with you her Majesty.

About Nature Relaxation™ Videos:
A Nature Relaxation™ video is a cinematic, high-definition video designed to immerse viewers in the sights & sounds of beautiful natural destinations from around the world. A hybrid mix of art, entertainment, and therapy, each video was designed to lower stress naturally by instilling a sense of calm and awe in viewers through the use of guided imagery and nature sounds — sometimes with the addition of relaxing ambient music. From cancer therapy and combating Alzheimer's, to elementary schools and maximum security prisons, Nature Relaxation™ videos are utilized by a diverse array of clients across several different industries as well as fellow nature lovers around the world. With licenses to suit any budget, and apps for convenient access on any device, Nature Relaxation is clearly the #1 source for nature content, especially for patient care and wellness-promoting environments. Learn more at http://www.NatureRelaxation.com!

Perfect for: Screensaver, Ambiance, Study Aid, Meditation aid, Meditation Background, Pairing with binaurial sounds and frequencies, Creating Virtual Windows, Calming Patients in waiting rooms and hospital rooms, Calming Prisoners in Solitary Confinement, Helping Combat the Effects of PTSD, Tinnitus, and Dementia, Help Focus while Studying, Sleep Aid and in Churches, and as Backdrops for Presentations, Lounges, and More.
GD Star Rating
loading...
Пометить материал как неуместный
Оценка информации

GD Star Rating
loading...